WELCOME
So much advice but so little time to process and understand it! Time compression is the bane of many business owners. It's not the quality of the advice perhaps so much as the quantity and disjointed nature of it!
Given that the average business owner has many advisors, how does he/she ensure sure that the various pieces of advice coalesce into a unified whole? Click here for more...
PROTECT
This is the 1st of the 3 stage Lynchpin process. Involves purely risk management planning designed to protect personal & corporate accumulated wealth from predator and nuisance creditors, wayward staff, spendthrift family members, unexpected health problems and bad luck.
GROW
This stage utilizes the 3 component corporate structure now in place. Focus is strictly on cash flow and how it is harvested and distributed in the most tax efficient manner. Conventional planning methods and financial products are typically modified or replaced.
TRANSITION
The most complicated stage involving many parties, their needs and wishes together with their egos and emotions.
Should involve multiyear planning focused on maintaining constant communication thus ensuring that facts and not perceptions take precedence.
A stage that is impacted by procrastination.
Our Core Beliefs:
The need for a "go to" advisor
Financial structure in place first before financial products purchased
All egos parked at the door
A detailed discovery precedes the planning process
Consistent planning momentum must be maintained
Plan accommodates changes in the environment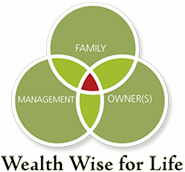 Reasons to Believe:
Exclusivity: we only work for business owners
Our proven Protect – Grow – Transition planning process mirrors the lifecycle of a typical business (Start up – Growth – Established)
Our experienced team of strategic planning specialists (almost 100 years)
Our raving clients (construction, automotive, manufacturing, heavy industrial, recreational)